Business Thank You Letter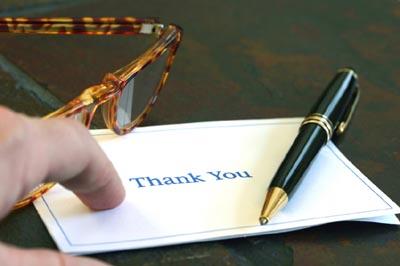 A business thank you letter is a great way to touch base with current and potential customers or employers. It thanks them for their business, time, or consideration and is the perfect professional gesture of appreciation. It also reminds them of who you are and what you have to offer.
Sample Business Letter
Though there are several occasions that lend themselves to sending a business letter, here is a sample to use. This is a sample thank you business letter that could be sent after an interview. Note that if you use a letterhead, you won't need to include your address at the top. If you're emailing your thank you letter, skip both of the addresses and the date at the top.
Your street address
Your city, state, zip code
October 18, 2001
Recipient's name
Recipient's street address
Recipient's city, state, zip code
Dear Mr./Mrs. (Last name)
Thank you so much for the opportunity to interview for the writing position. I am still very interested in the job and would be thrilled to join your organization. I appreciate the time you took to speak with me about the work.
My decade of experience interviewing business professionals and writing content for the Internet will assist me in creating the profiles you want featured on your website and in creating just the type of copy you need to promote your services. Because I work quickly and efficiently, I will be able to turn most of the projects we discussed around in one to two days. In addition to the profiles and Web copy describing your services, I can create dazzling press releases and brochures in a timely manner, allowing you to show off your business in a positive light. I'm detail-oriented but I'm also a creative thinker. I work extremely well without supervision (and never miss a deadline!) but I also thrive in a group brainstorming environment.
Thank you again for your time and consideration. Please feel free to contact me at XXX-XXX-XXXX with any questions you may have.
Sincerely,
Your name
Unless you're using email, press enter four times after "Sincerely" so you'll have room to add a signature above your typed name.
When to Write a Thank You Letter
No matter who you're sending the thank you letter to, the general rule of thumb is to send it out within two business days following your meeting with the letter's recipient. In the case of sales contacts, the idea behind this is that you don't want to give the person a chance to forget you before they receive the letter. The same holds true if you're sending a thank you as a follow up to an interview.
Professional letters of appreciation are appropriate in several circumstances, including:
Follow up for an interview
To your employer after you've given notice
After closing an important deal
After meeting a new contact at a business event
To a team member for getting a project completed by or before deadline
A package delivered on time
Following a presentation
To an employee who puts forth extra effort to complete a task
For a referral
In response to an invitation
Business Thank You Letter Format
A business thank you letter should follow a standard business format and be written with a professional tone. The main focus is to thank the recipient for something. This may be a meeting, purchase or even a phone conversation.
Thank You Letter Format
A thank you letter does not have to be lengthy. In fact, a letter that is to the point is often much more appreciated. Most business people are busy and don't have time to waste. A letter that gets to the point, says what needs to be said, and closes is ideal. Your thank you letter should include:
Opening paragraph: This paragraph states the purpose for the letter. Your appreciation and what it is in regards to.
Paragraph 2.The second paragraph should include more detail regarding the meeting, purchase or whatever event led to your appreciation. These details should offer enough background information to be sure it is clear to the recipient who you are and why you are thanking them. (This may be two paragraphs if needed.)
Closing paragraph: In closing, you may thank the person one more time with wording such as:

Thank you again for taking the time to meet with me.
I appreciate your consideration and will call to follow up early next week.
I value your business and want to thank you for your ongoing patronage.
Benefits of Sending a Letter
With today's technology it's easy to zip off a quick email thanking someone for their time or business. However, sending a "real" letter has its advantages. When a person receives a letter addressed to them in their mailbox, it has a personal feel to it. A business thank you on paper is not spam, junk mail, or even advertising. It's a letter that says thank you personally and professionally. This makes a lingering impact. Demonstrating this amount of respect for a potential employer or a client can lead to a job, a sale, or a long-lasting professional relationship.
Typed, Handwritten, or Email?
The nature of a thank you letter leads many people to question whether or not their thank you letter should be typed, handwritten or whether or not a thank you email is appropriate. In fact, all are acceptable. Your personal knowledge of the particular details should help you determine what format is most appropriate. For instance, if your normal method of correspondence with the person is through email, then an email thank you is totally appropriate. You'll still want to follow a business letter format and may even want to send a hard copy letter by mail, too.
A letter printed on your computer is more formal and is most appropriate in situations such as interview follow up letters or with a business contact you don't know well.
A handwritten thank you can be written using a thank you card. These are appropriate for people you know such as your boss and coworkers, but with clients they don't make the same impact as a well thought-out letter.
If you are unsure of which format to use, the safest format is the typed letter. It's professional, thoughtful, and lets the recipient know they are appreciated.
Should You Send a Letter?
Usually, the short answer to whether or not you should send a letter is, "Yes!" A simple letter, whether it's handwritten or typed, can make you stand out among the other candidates for a job or other salespeople vying for a client. Even if you're not competing for a job, promotion, or a sale, building relationships with people is important for being successful in the business world. If you're grateful for something, let the other person know.