Notice of Business Closure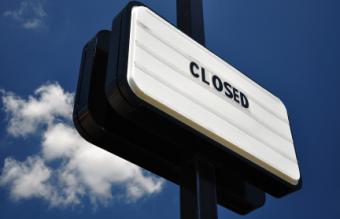 If you decide to discontinue your corporate activities, you may be required to file a Notice of Business Closure with your state government. It's also a good idea to share this important information with customers and suppliers.
Your customers and suppliers will want to know the reason your business is being shut down. While you don't need to go into detail, you should give them a brief explanation for your decision. Simply saying that you have made the decision for "personal reasons" is enough.
Do You Need to File a Notice of Business Closure
If your business name is registered, you may need to file a Notice of Business closure with the state government. The process is similar to the one you followed when you registered the business name originally. In this case, you are officially notifying the government that you will no longer be operating your business.
To find out whether you are required to file a Notice of Business Closure, check with the Office of the Secretary of State. To find the Office for your state, visit StateLocalGov.net.
Notice of Business Closure Form
If you are required to fill out a Notice of Business Closure form, you will need to provide the following information:
Name and address of your business
Permit Number
Federal ID Number
Phone number
Date your business will be shut down
You will also be asked to reveal whether the business was sold. If the answer is, "Yes," then you need to provide the purchaser's name and contact information. The government will also want to know what the total selling price was, as well as how much of that figure represents fixtures and inventory.
Notifying the Internal Revenue Service
Whether you need to file a Notice of Business Closure with the state government or not, you will need to let the Internal Revenue Service (IRS) know that you have or ceased to operate. Income taxes will still need to be paid for the last year that your business was operating.
Employees must be given their final pay checks, and employment tax returns must be filed. The amounts withheld from employee pay checks must be deposited, as usual. The IRS will also need to know the name of a contact person who is responsible for the payroll records, as well as the address where they are being kept. The IRS also needs to know whether the equipment and other property belonging to the business was sold or disposed of in some other way.
Business Closure Letter to Customers
A Notice of Business Closure can also be in the form of a letter that you send out to your customers and suppliers. Your customers should be notified as a courtesy, and getting some notice gives them the chance to place additional orders before you close your doors.
You may also want to use the letter to suggest an alternate supplier or service provider to your customers. If you are closing your business because you are selling it to someone else, you can take this opportunity to introduce your existing customers to the new owner.
Be sure to thank your customers for their business and the loyalty they have shown to you during the time your business was operating. This is a very professional way to end your current business relationship, and it is one that your customers will appreciate.
Notify Your Suppliers
Your suppliers will also need to be notified that your business is closing. If you are going to be closing your business accounts as part of the process, you want to give them enough notice so that they can submit final billings and be paid while the business accounts are still active.