Professional Letter Samples
Writing a business letter can seem to be a daunting task, but it is much easier when you have access to sample letters to help you get started. The example documents provided here can all be edited and saved. Simply click the image corresponding to the topic that most closely matches your need to download, then and click anywhere to begin. If you need help with the documents, check out these helpful tips.
Letter of Inquiry Template
Do you need to send a formal request to a company or individual to provide you with information? Click on the image on the left side of the page to download a sample letter of inquiry that you can customize to use for your request.
See these sample letters of request for additional options for this type of correspondence.
Sample Subscription Cancellation
Are you trying to cancel a fee-based subscription services and the company requires you to submit your cancellation request in writing? This sample document can be customized with your specific request and account information.
Example Account Cancellation Letter
Is it time to stop doing business with a particular supplier? If you want to officially close your account with a company that you have been doing with, it's best to provide written notice of your intent. This clarifies your position with the vendor and helps ensure that employees who may not be aware of the change will not be able to place additional orders with the vendor.
You many also find one of these sample business contract cancellation letters to be beneficial.
Sample Collections Letter
Do you have a customer who is behind on his or her payments to your company? If so, you may want to send a collections letter. Be sure the final document complies with the debt collection laws specific to the area where your business is located before finalizing. It is best to have this type of letter reviewed by an attorney before sending it to customers.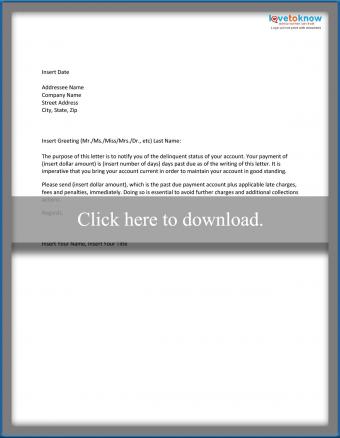 You may also find these sample request payment letters or debt payment letters to be helfpul.
Employment Offer Template
Are you ready to extend an offer of employment to fill an open position with your company? Note that this template is designed for a non-conditional offer in an at-will employment state. Keep in mind that an offer of employment - written or not - is legally binding. Ensure that the final verbiage accurately reflects the position you are offering and any conditions associated with it. Also verify that all of the information in the final document is in compliance with employment egulations specific to the state where you are doing business.
Example Position Filled Notification
If you have gone through a process of screening candidates for job openings, chances are that there are a number of people who made contact with your company who will not receive employment offers. It's a good idea to notify them that the position has been filled so they are not left to wonder if they are still being considered for employment with your company.
See sample rejection letters for another example of this type of correspondence.
Additional Sample Letters
Of course, professional letters can have many other focus areas. For example:
Tips for Writing Business Letters
No matter which of the sample letters you choose to use, or if you decide to draft your own from scratch, be sure to check your work before finalizing the document and sending it to the recipient. Verify dates, statistics, names and other information. Make sure that the included information is both correct and complete.
Proofread carefully for typos and grammatical mistakes after customizing the letter. One way to catch these is to read your letter out loud. Before you send a professional letter, it's a good idea to have another person proof it for you. After all, a second set of eyes will often catch little things easily overlooked when you try to review your own work.
Customize for Your Needs
The quality of the written communication that you send out will directly reflect on your own level of professionalism as well as the image of your company. While the customizable templates provided here can be used as starting points for business correspondence, it's up to you to customize them for your specific situation and audience, as well as to ensure that any document you create is in compliance with all laws and regulations that are applicable to your company.