The letter that you write to request time off does not have to be long or complicated. However, it does need to be well written and reflect an appropriate level of professionalism. Use one of the templates provided here as a starting point for writing your own vacation request, based on the length of time you plan to be away from work.
Vacation Request Templates
To get started, simply click on the image of the document you want to use. It will open as a PDF document that you can edit, save and print. This guide for Adobe printables can be beneficial if you need assistance working with the document.
Requesting Up to a Week of Vacation
Use this version if you are asking for a vacation of one week or less.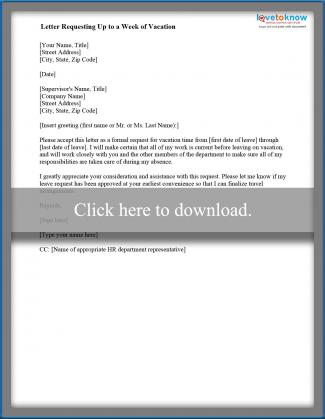 Requesting a Longer Vacation
Use this template if you are planning to request more than one week of vacation.
Submit Your Request as Early as Possible
Everyone needs to take a break from work once in a while. Increase your chances of having your leave request approved by submitting a well-written vacation request letter to your supervisor well in advance of the dates that you want to be out of the office.
Keep in mind that vacation requests are often approved in the order they are received. Because of this, it's in your best interest to submit your letter as soon as you know that you would like to schedule a vacation. After all, you don't want to ask for days off only to discover that your request is denied because another employee has already been granted leave for the same time.