How to Get Business Lines of Credit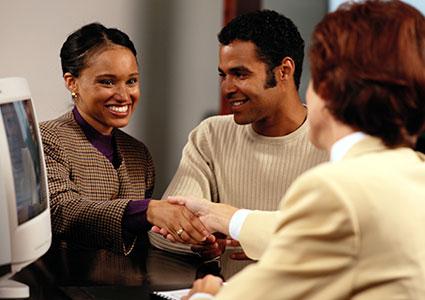 A business line of credit (LOC) can position you to launch marketing campaigns, upgrade computer systems, act quickly when business opportunities arise, manage seasonal ebbs and flows and more. Sometimes just knowing that cash is available if and when you need it makes for a better night's sleep.
Before You Apply
The first step to securing a business line of credit is to actually be a business. Be sure to check these things off your list before applying for a line of credit:
Apply for a state tax identification number (TIN).
Obtain an employer identification number (EIN) through the IRS. This will also establish your business as a legal entity.
Open business checking and savings accounts, and be careful to keep your business expenses separate from your personal ones.
Apply for a D-U-N-S Number, through Dunn and Bradstreet (D&B). This agency compiles business credit profiles, in much the same way Experian, Equifax, and TransUnion track personal credit information.
Establish a credit account in the name of your business, use it routinely, and pay it in a timely manner. This credit can be through a vendor, or it can be a credit card. It can even be a secured credit card. The important thing is to establish a payment history and make sure your timely payments are reported to D&B.
Write a business plan.
Performing these tasks will help you to establish some initial credibility with lending institutions and help them view your LOC application more favorably.
Find Lenders
The financial institution where you already have business checking and savings accounts is always a good place to start. Sit down with a lending officer and discuss your needs. If your bank can't offer the terms you need, or if the terms they offer are not very competitive, shop around.
Small Business Lending Fund
The Small Business Lending Fund (SBLF) was established as part of the Small Business Jobs Act of 2010. The U.S. Treasury funded the SBLF to the tune of $4 billion, earmarked to spur small business lending and enhance job growth. Community banks applied to receive the funding, and now 332 of those institutions are now charged with lending the money directly to small businesses. Simply view the map to learn which financial institutions in your area have SBLF money to lend.
Wells Fargo
Wells Fargo offers a variety of secured and unsecured LOCs for businesses. Credit limits on unsecured lines go up to $100,000, while real estate secured line limits are capped at $500,000. Interest rates on all the Wells Fargo business lines are variable and tied to the Prime Rate. Go to the bank's Business Lines of Credit page and click the "How to Apply" button for the option that best fits your needs to learn what information you will need to gather, then apply in person at your local branch. You may also call 1-800-225-5935 with any questions.
HSBC
HSBC offers business LOCs ranging from $25,000 up to $2 million. Your business's track record and performance are key factors in obtaining this loan. Qualifying for this loan is based on the track record of your business, it projected performance, and your collateral. Call 877-472-2249 with any questions.
Key Bank
Key Bank offers a variety of business LOCs, both secured and unsecured. However, the bank operates in only 14 states. They are: AK, CO, CT, ID, IN, KY, ME, MI, NY, OH, OR, UT, VT, or WA. If you are located in one of these states, you can review a comparison of Key's business credit line products online. You may also call 888-539-4249 with questions.
Chase
Chase offers a business LOC with limits starting at $10,000. This credit line is available only in the following states: AZ, CA, CO, CT, FL, GA, ID, IL, IN, KY, LA, MI, NJ, NV, NY, OH, OK, OR, TX, UT, WA, WI, WV. Applications are accepted in person, in branches only. Call Chase at 800-242-7338 for more information.
U.S. Bank
U.S. Bank offers offers three business LOCs, with credit limits ranging from $10,000 to $1 million. The products are compared online. You may apply for the Cash Flow Manager Line of Credit online. It requires no collateral and has a credit limit of $100,000. Other lines require collateral and you must apply in a branch. Call U.S. Bank at 800-673-3555 for more information
Guaranteed Loans
Unless your business credit is well-established, lenders are likely to ask for a guarantee of repayment.
Personal Guarantee
A personal guarantee means that you are personally liable for the repayment of loan proceeds if your business cannot pay. To help avoid this requirement, you will need:
To have been in business for two years or more
A strong and predictable pattern of gross revenue
It is also helpful to have business-owned assets to use as collateral.
Government Guarantee
The U.S. Government guarantees a number of business loans, in much the same way it guarantees student loans. These programs are managed through the Small Business Administration. The CAPLine is a line of credit designed to help with small business cash flow. The first step in qualifying for the CAPLine to prepare and submit a 7(a) Loan Program Application.
Considerations
Only do business with reputable firms; if a business line of credit offer seems too good to be true, it probably is. In particular Mulligan Funding points out that a Merchant Credit Advance (MCA) is not the same thing as an LOC, and can be a very expensive alternative. Also keep in mind that, according to the Wall Street Journal, LOCs usually come with variable interest rates that can lead to payments that increase over time.