In today's fast-paced global business market, successful companies need to react quickly to evolving business conditions, trends and events that directly impact certain business sectors. Fortunately, business decision-makers today have unprecedented access to information and data. They can use state-of-the-art technical tools to organize and use that business intelligence to manage complicated business environments very effectively.
What Is Business Intelligence?
Business intelligence (BI) is a set of strategies, methodologies, processes, data technologies and technical architectures that uses software or other cloud-based platforms to transform and convert 'big data' into meaningful business information and insights that can be used to support ongoing decision making and strategic business planning. 'Big data' encompasses the large volumes of data that many businesses collect on an ongoing basis.
Business intelligence can involve utilizing purpose-limited tools to provide a very focused and specific analysis of relevant business issues. However, the scope of business intelligence can also expand into the analysis of broad concepts and huge amounts of data that can assist with global strategies and long-term planning.
Evolution of Business Intelligence
The concept of business intelligence is hundreds of years old, but has historically been limited by the available technology and data gathering resources. One of the earliest known uses of business intelligence was in 1865, by a banker who invested and set interest rates based upon the outcomes of battles in various European war zones.
The earliest forms of business intelligence were usually in the form of simple written reports. Early historical BI techniques have grown into sophisticated techniques using a wide range of software applications and data warehouses. Modern business intelligence is generally stored and utilized in a cloud-based environment on internal server.
Business Intelligence Processes
Effective business intelligence uses information and data from external sources in the marketplace and internal data from company sources and departments. All of these processes are designed to ask questions and measure data that can be analyzed and then compiled into reports that support business decisions.
Common components of business intelligence include data mining, analytical processing (both predictive and prescriptive), reporting and benchmarking. Subsets of business intelligence include competitive intelligence and business analytics.
Use of Business Intelligence
Business Intelligence provides historical, current and even future context to 'big data' information. It can be used by any business to support basic operating decisions such as pricing and marketing effectiveness. Business intelligence also can be used to support larger strategic business decisions such as business goals and priorities.
Both large and smaller companies should consider using business intelligence as a tool, since business intelligence can so easily be adapted to a particular business need.
Key Benefit of Business Intelligence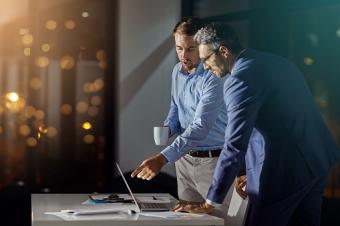 The key to successful management is access to information so that decisions can be made quickly and confidently - and that is exactly what business intelligence provides. The principal benefit of business intelligence is that it allows business managers to access the unprecedented quantity of data that is available today and organize that information in specific ways and applications that allow meaningful, evidence-based business decisions.
Never before in history has there been an opportunity to track and immediately use real-time client/customer information, relevant market and competitor data, impactful news events and changing economic indicators all at once and in focused software reports. The positive impact of business intelligence on business managers is tremendous.
Real-World Examples
The best way to illustrate the benefits of business intelligence is to review some real-world examples of business intelligence in use.
Chase-Pitkin Home and Garden
According to InformationWeek, Chase-Pitkin Home and Garden, a New York based chain selling garden supplies and related hardware, used business intelligence resources to significantly reduce shrink of its merchandise. Shrink is the disappearance of goods that have been ordered by suppliers, but show no records of ever having been sold at point of sale (POS) stations. The company was aware that shrink was occurring with its merchandise, but had no idea where in the supply chain this problem as occurring.
Chase-Pitkin managers used a business intelligence software system known as Showcase Essbase, an Oracle product, to determine that specific power tools were being stolen, primarily from the power tool departments in 15 different stores. Policies and procedures were put in place that protected these valuable items and the company reduced shrink by $200,000 the first year.
Maidenform
The industry magazine Apparel reports that Maidenform, a prominent women's intimate apparel brand has made big investments in business intelligence applications . Since 2013, the company has utilized a business intelligence tool set designed by SAP to monitor supply chain adjustments based upon customer demand and to provide information for a wide range of management and governance decisions.
The company is working on streamlining its business intelligence tools and dashboard to allow quicker access by mobile devises. Maidenform managers credit business intelligence with giving employees more time to engage in core business and customer activities rather than generating reports.
Public Transportation
St Joseph's University has done studies of many fields that utilize business intelligence. Their website explains that many municipalities around the world use a "specific type of business intelligence and analytics known as transit intelligence." This type of BI platform analyzes specific data such as ridership data and maintenance schedules. Transit services managers then use this data to create better schedule adherence, to increase revenues and margins, and to improve ridership satisfaction.
The Future of Business Intelligence
The amazing potential of business intelligence has only begun to be appreciated in the business world. Access to big data will soon become the life blood of most business organizations, and the BI industry provides the information that managers must have in order to sustain this vital interaction with the world.
Business intelligence is now an important and growing component of business management and operations. Business intelligence is one the fastest-growing career fields in the United States across many industries. Many institutions of higher learning offer graduate degrees in business intelligence to help meet the demand for qualified professionals.