Time Off Request Form Template
A time off request form does not have to be overly complicated. It just needs to be a basic document where employees can provide information about who they are, what kind of leave they need to schedule and when they need to be away from work. There should also be spots for employee and supervisor signatures as well as a place for the HR department or management to verify if the employee is eligible for leave.
Customizable Time Off Request Form
The template provided here can be edited and customized to meet the needs of just about any organization. If you'd like to use it as the foundation of your own time off request form, simply click the form's image. The document will open in a PDF format that you can edit, save and print as needed. If you have any trouble accessing the document, use this guide to Adobe printables for assistance.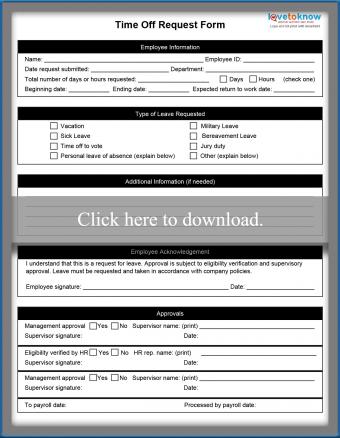 Working With the Template
Once the PDF template is open, simply click anywhere in the document to edit.
Use your keyboard to make text changes.
If you need to add or remove lines to the 'types of leave' or 'approvals' section, use the '+' and '-' signs to do so.
To save, either click the diskette icon on the tool bar, or access the 'file' menu and choose the 'save' or 'save as' command.
To print, either click the printer icon on the tool bar, or access the 'file' menu and choose the 'print' command.
Simplifying Requests for Time Off
It's only natural that employees will need to schedule time off from work for various reasons on occasion. Because of this, every company needs to have a form like this one to simplify the process for requesting time off from work. Otherwise, employees will end up making oral requests or submitting vacation request letters when they need to ask for time off.
Using an official time off request form is preferable, as it provides a standardized way for vacation, sick time and other leave requests to be submitted and processed.