Ecommerce businesses are a rapidly growing sector of our economy, with a predicted sales growth of 41% from 2015 to 2018. If you're one of the many entrepreneurs working on building an online business, there are a number of key steps to take and strategies to follow that can help you develop your client base and grow your sales.
Online Business Development: Technical Basics
Everyone who develops an online business needs to consider the important technical issues of running a website and plan for this as part of the development process. Since your business is entirely online without a brick and mortar location, making sure your website works smoothly without interruptions is critical. Some basics to consider:
Mobile Design
Your website should be mobile-friendly which is increasingly becoming the way users go to the internet. Approximately 81% of adults in America use smartphones and this number is expected to increase. If your business wants to reach the public, not having a mobile-friendly site will be a roadblock to success.
Reliable Hosting
Choosing a reliable hosting service is also extremely important. If your site experiences downtime due to issues with your web host, this means lost business and potential customers who may never come back to your site.
When selecting a hosting company, look for reliable backup services, secure servers to protect customers' information from hackers, and the ability to upgrade your hosting features as your business expands. Solid customer support that is available 24/7 and can be accessed via phone, live chat and email is also a major benefit. If your site goes down, you do not want to be stuck on hold endlessly waiting to speak to tech support, or find yourself only able to send an email for help and not knowing when you'll get a response.
Search Engine Optimization
You also need to work on a search engine optimization (SEO) strategy before you start planning your actual website design and functionality. An effective SEO plan with quality, regularly updated content will increase your visibility in search engine rankings and drive traffic to your site and may require expert assistance. SEO involves much more than just keywords and content. Proper technical setup for your site is critical. Key issues to be aware of include:
Images should be optimized for the fastest loading times.
Pages should have descriptive titles with HTML headings (i.e. H2, H3).
Your site must be truly mobile-friendly, which goes beyond just making sure it can can be viewed on a smartphone or tablet.
The code behind your site shouldn't slow the speed of your site, as this can hurt your search rankings.
SEO is an ongoing process. You'll need to regularly review your site's information and add updated content to keep your high rankings in searches.
Ecommerce
How you handle the actual financial sales of your site can be a 'make or break' moment for your customers. If the process is difficult to follow or doesn't work as it should, customers are likely to abandon their shopping carts and your site and not return.
As owner of a website-based business, you should learn the basics of how money transactions work, from shopping cart software to using merchant services providers and payment gateways. You will also need to ensure that your site is using HTTPS instead of HTTP in the URL, as this is now required by Google and other search engines for sites involving private data transactions.
You may also want to consider adding in one or more third party shopping sites, such as Amazon, Etsy or ebay. Selling your services or products on a variety of sites can help you increase your reach and sales.
Usability
Never forget the importance of a first impression for customer engagement and retention. If your site looks like it was designed in the 1990's or by your teenaged child, you will not be seen as a professional, legitimate business that people want to give their money to.
At the same time, remember that there is much more to running a successful online business than having a strikingly beautiful website. A website can look like a stunning piece of art, yet at the same time be difficult to navigate and frustrating for customers. When designing your site, always keep your customer in mind and follow good user experience (UX) design principles.
While there are many low-cost do-it-yourself website builders, working with a professional designer who understands your business and your target market can make a huge difference in the impact and usability of your site. When creating an online business, creating your website needs to be a serious investment to be successful.
Customer Contact
Don't make customers search on your site for more than a few seconds to find a way to contact you. Have a link for your contact page in multiple places and include multiple options such as contact forms and email to give them a choice that fits their needs. Customers using an online business expect a higher level of responsiveness because your site is always on. Give them clear information about how they can reach you and typical response times.
Testing
Make sure you test your site multiple times with a variety of users before you launch. Lack of proper testing can seriously harm your big launch if there are still technical problems with your site.
Actionable Tips to Grow Your Online Business
Having a technically sound website is important, but it is just the beginning. Chances are that you'll need to implement a number of key strategies in order to implement and grow a successful online business. There are many different options to consider.
Know Your Market
Robbie Kellman Baxter, keynote speaker, strategy expert, and author of Author of The Membership Economy: Find Your Super Users, Master the Forever Transaction, and Build Recurring Revenue emphasizes the importance of knowing your market and analyzing their needs. She emphasizes, "Make sure that what you are creating will solve a problem or create a great opportunity for a very specific group of people you want to serve."
Plan for the Long Term
It's important to plan for the long term when looking at your marketing strategy. This involves coming up with ways to keep customers engaged with content, products and services that are relevant to them. Baxter, whose clients have included Netflix, SurveyMonkey, Yahoo!, and companies in more than 20 different industries, cautions, "It's hard to get people to engage in transactions over a long period." She points out that business owners "need to give them (customers) a really good reason to keep coming back."
She indicates that a common error web-based business owners make is to "focus so much on online ad-based campaigns and they don't think about engagement and retention and about their market."
Analyze Often and Make Changes
A good online business owner will continually review his or her site's performance and nimbly make changes to improve sales and growth. As Baxter points out, "Online companies can continually quickly evolve as they learn about their customer." You can do so by using analytics to see how customers are using your website, what products and services they are purchasing the most and least, what types of comments and reviews you are receiving, and where the typical clickstream occurs on your site.
Google Analytics is a free service that provides a powerful suite of website analytics that every online business owner should regularly review.
Hotjar is another invaluable site. It creates "heatmaps" that can show you where users are interacting the most on your site. There is a free trial version and plans start at $89 per month.
Take Onboarding Seriously
Onboarding is the process customers experience when they first visit your website and make a purchase. Many businesses make customers jump through a series of hoops to access their products or services. Baxter cautions against this, indicating that it "gives them (customers) a bad taste in their mouth because they have to invest a lot of time to get value." It's important to spend time developing the onboarding experience for users to keep them coming back for more.
Key points to consider when developing an onboarding process include:
Is the payment process easy and seamless for users?
Do users get immediate value that reinforces their visit to your site?
Does your site's design and content create a welcoming experience?
Is it easy for users to find what they need?
Spotify is an example of a business with an effective onboarding strategy. When you join, you can immediately can listen to music that you enjoy. This which positively reinforces your decision to join and makes you want to come back for more.
Implement a Subscription Model
Tiered subscription pricing is a model used in many types of online businesses, such as educational sites, coaches, software and Subject Matter Experts (SMEs). With a typical SME site, users pay for different levels of subscriptions to have access to the SME's expertise. The lowest level of subscription might be access to webinars and handouts, with higher levels providing a wider variety of resources, one-on-one coaching online, and live events.
This model creates a long-term stream of recurring revenue, although Baxter says the real challenge is making sure "value comes at the very beginning" to ensure users commit to buying a subscription. Many subscription models include a free option that gives users access to limited products or services with the hope this will build a desire to move up to a paid level.
Build an Online Community of Supporters
You can build an online community for free with services such as Facebook, Mighty Network, and LinkedIn. However, growing and maintaining it requires, as Baxter states, "sweat equity." She explains, "You have to build it bit by bit. If you have a community that is active, you get all kinds of benefits. People create content that creates value for other members and drives people to your site. It also creates more engagement because people want to talk with their peers."
Within your online community, one strategy to build growth is to cultivate "super users" or "brand ambassadors."
Baxter describes SalesForce.com as an excellent example of the benefits of rewarding the MVPs in your online communities. These are the people who are the most active on forums, consistently help others with questions and promote the brand heavily on their own social media.
Another example is Amazon reviewers who create content often enough that they begin to receive free books for review or are provided with books earlier than they are available to the public.
Even a small online business can designate passionate users early on and use gamification to reinforce their passion and bring new people in to support your online business.
Use Social Media for Continual Engagement
Social media is an important tool because of the breadth and depth of the people it reaches. More than 500 million tweets, 4.5 billion Facebook likes and 95 million photos and videos added to Instagram are made each day. An online business cannot ignore using social media to build their business and attract new customers. Any type of business can make good use of social media but online businesses, with their internet-savvy customers, are expected by consumers to be actively engaged on social media by the very nature of their business.
One way to manage the time involved for social media is using programs such as Hootsuite, Buffer, and Sprout Social. These sites have tiered pricing for higher levels of service and make managing all of your daily social media postings and overall strategy much easier and less time consuming.
Social media also provides analytical benefits in that you can view likes, reach, and shares to see how well a product or service is doing, as well as read comments about your business that provide both positive and negative insights.
Create Viral Growth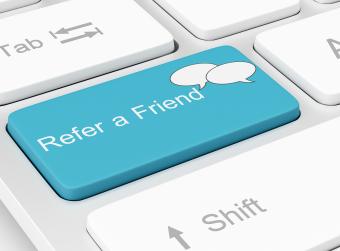 Viral growth occurs when you give customers a benefit to encourage others to visit your website. This strategy works well for online businesses that rely on increasing visitors to their sites. For example, Netflix encouraged users to click on a link to send their friends two free weeks to the service. In fact, anyone who signed up with Netflix received two free weeks, but people receiving the links perceived it as a special deal brought to them through their friends.
Another way to apply this strategy is to give additional benefits to existing customers who bring in new customers. For example, Project management website Trello gives users a free month of their premium service for every person they invite to use the software. Other companies provide additional entries in a contest or higher discounts for every Tweet and Facebook post you send out promoting them.
Employ Iterative Personalization
If you frequently use retail websites, you'll most likely have encountered the marketing strategy of iterative personalization. Log on to Amazon and search for items and you'll immediately see on screen other items of a similar nature. Buy an item and you'll get additional recommendations based on your purchase. While these options presented to you are created through programming algorithms based on sales data, as a user it feels like Amazon is uniquely recognizing you, your passions and interests and providing a customized experience. This strategy gives online businesses a unique advantage over more impersonal physical stores, and it can be used in companies of all sizes.
Develop a Strategy for Mobile Users
Whether or not to have a dedicated mobile app versus a mobile-friendly website is an issue new online business owners struggle with, particularly since there's an additional considerable expense to creating a separate app. Baxter believes there are real opportunities for growing your business when you change how you interact with people based on how they behave when they are using a mobile device and away from their desk.
She advises, "If you have a real strong community and content that people want to access on a regular basis, having an app is critical so they can relate any time. You want to optimize for where they are and that may be a totally different interface from what is on your website."
Use the Internet to Your Advantage
Consumers can now have 24/7 access to any website and social media and can interact with a company immediately. As the owner of an online business, you need to follow this mindset rather than that of an owner of a typical business with a physical location. It's definitely important to consider all the usual technical details as you develop a new online business site, but also take the time to focus on who you want to serve and how your business can solve a specific problem in their lives to make your value to consumers compelling. You'll be on your way to creating a devoted customer base and solid sales performance.