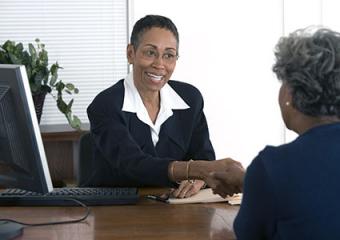 A business broker helps entrepreneurs find and purchase businesses for sale. Working with this type of broker may help save on the time and money it takes to purchase an existing business.
The Job of a Business Broker
A business broker's job is to help individuals locate, negotiate for, and purchase a business that is for sale. According to Entrepreneur.com, a business broker:
Narrows the client's areas and industries of interest in which to purchase a business
Finds businesses for sale that meet those areas of interest
Negotiates the purchase price and other conditions for the sale
Completes and processes the paperwork for the sale
Some brokers work in a specific industry, while others work in several or all industries.
How to Find a Business Broker
Entrepreneur.com states that individuals may be able to find a broker by searching with their local office of economic development or chamber of commerce. The International Business Broker's Association can also provide information about business brokers in a specific area. The association's website allows users to search its member directory to find local brokers, and lists any certifications that a broker possesses.
Business Broker Firms
There are also companies that specialize in providing business brokerage services. Notable companies include:
Benefits and Drawbacks
Working with a business broker has many benefits, namely obtaining assistance with finding a business to purchase that meets an individual's area of interest, navigating the negotiation process, and completing the sale. A broker can also help lower the sale price of a business through negotiations and diffuse highly charged emotions that may arise during the transaction by lending a neutral outlook.
Additionally, because of his expertise and having been hired to represent the entrepreneur, the broker will likely point out any negative aspects or considerations to the entrepreneur. This can result in the entrepreneur being better informed and confident in her purchase.
Potential Drawbacks
However, there are also drawbacks to working with a broker. The first drawback is that many brokers charge a commission based on the sale price of the business for their fee. This increases the overall cost of buying a business and may decrease the broker's interest in securing the lowest sale price for the transaction.
Another drawback is that no states have licensure requirements for these brokers. This requires extensive consideration of a broker's background and limits an individual's ability to check on a broker's reputation and expertise to references.
How to Work with a Broker
When working with a broker to buy a business, BizQuest recommends a few steps.
Display Commitment
Show that you're committed to the process. According to BizQuest, brokers receive hundreds of "interest" calls each year, few of which turn into clients. Showing a broker that you're serious about making a purchase by providing paperwork and all other information you've gathered or created will make the broker more apt to take you seriously and start on your search immediately.
Provide Information
Provide all the essential information without delay. A broker needs to know how much you are interested in investing, the industries or areas of interest you have, your business background, and your credit history. Providing this information up front will demonstrate your commitment and encourage the broker to get started on your search.
Rely on the Broker
Let the broker deliver bad news to the seller. Don't sully your reputation in an industry by being the bearer of bad news. Instead, leave the task of delivering bad news during negotiations to your broker, the person you've hired for that task.
Be Realistic
A broker is there to help you, but cannot do your work. It is your funds and future income at risk and therefore don't expect to be able to leave the work of running or making changes to the business after the sale up to your broker.
Additionally, don't expect miracles. A broker is there to assist in the sale process, but cannot make you or the seller agree to anything or do something you do not want to do.
Finding a Broker
When working with a broker, online business marketplace BuyBizSell recommends considering:
Reference feedback: Be wary of working with a broker with several references that mention the same significant complaint.
The size of the office: Multiple agents in an office means that there are more hands to process your transaction but may also mean that your sale gets placed into less capable hands.
Areas of specialization: A broker without much or any experience in the industry in which you would like to buy a business may not be able to fully analyze a potential sale or point out areas of concern.
Number of clients: A broker with numerous clients may not have as much time to dedicate to your transaction as you would like.
Who is represented: A broker may also represent or have an interest in the business that they recommend for you to purchase. Prior to hiring a broker, inquire into whether they only represent you or if they also represent sellers.
Commission rate: Make sure that you understand the commission structure and obtain a written agreement as to the percentage before working with the broker.
The broker's experience: An experienced broker is more likely to be able to find the perfect business for you and be successful in negotiations.
Your Broker and You
Choose the broker that you feel the most comfortable working with and whom you feel will best be able to find you the perfect business for your interests. Obtain all necessary information up front and remain realistic about what a broker can and cannot do.